Is New Year's Eve in Yosemite Worth It?
Where do you want to spend New Year's this year—New York City, San Francisco, Miami? Why not plan something different and ring in the New Year at Yosemite?
The wondrous national park is not just for camping or sight-seeing adventures. You can don your tuxedo or pumps and pearls and experience a luxurious New Year's Eve in Yosemite like none other.
Really? New Year's Eve in Yosemite National Park?
Why not? Chances are, if you are reading this, you've celebrated plenty of New Year's Eves before and are looking for something different. Yosemite is not your typical explosion and firework-type place, but there is awe-inspiring beauty and a location like nowhere else on the planet. You can meet luxury guests from all over the world or just spend time with your loved one, away from the crowds.
Where Can I Stay?
Naturally, Yosemite is less crowded in the winter; yet on holidays, particularly when events occur at the Ahwahnee Hotel, such as the Bracebridge Dinner or Vintners Holiday, the hotel tends to sell out. If you do happen to find a room available, though, here are the types you can choose from, depending on how much you care to spend:
Standard Hotel Rooms
These rooms are just normal hotel rooms, usually with a less-than-dramatic view of Yosemite. Does that matter to you? For many, if you are doing Yosemite correctly, even on a private luxury tour, the hotel room view doesn't matter because the majority of your time will be spent outside in nature, not in your room. But if the view does matter to you, then you can reserve…
Classic Hotel Rooms
These are the same types of hotel rooms as the Standards, although they tend to have a better view, usually of Half Dome, Glacier Point or the surrounding Royal Arches cliffs. Interestingly, because the Ahwahnee was built in the 1920s, each hotel room is not always the same.
Featured Hotel Rooms
As we continue up the chain on types of hotel rooms at the Ahwahnee for New Year's Eve, we come to the rooms with views and balconies. Of course, in winter in the mountains, you might not spend much time outside, but at least you have the option. As with the hotel rooms, some balconies are larger, some are smaller, and some even adjoin with other hotel rooms.
The Suites
Of the 99 hotel rooms in the Ahwahnee (formerly the Majestic), a few of them are suites. These are larger rooms with more style and character than the others, and you pay for it. Are you coming with a family and want to share a larger room? Is money not a big deal to you? Then book these rooms and you will be in the best rooms in Yosemite. You can enjoy a sunroom, a mahogany library room, or a few others.
The Cottages
These are our favorites, where President Obama and his family stayed when they visited Yosemite. The cottages are a great place to stay, but in winter there is a downside: they are not attached to the hotel. Therefore, you need to walk outside to reach your cottage (in winter, in the mountains, with snow…). The walkway is flat and paved, and the distance is no longer than 200 meters. However, when you've had a few drinks on New Year's Eve, maybe you do not want to go outside.
Other Places to Stay Besides The Ahwahnee
There are other places to stay in Yosemite over New Year's, though if you are doing the dinner-dance at the Ahwahnee, we recommend you stay there as well. Another hotel nearby is Yosemite Lodge. Otherwise, you'll be staying away from the Valley. Rush Creek Lodge and Tenaya Lodge, both viable options, are quite a distance from the Valley.
Driving to Yosemite on New Year's
Are you driving yourself to Yosemite on New Year's? Or are you hiring a private driver to show you around? Whichever method you choose, make sure you are prepared for winter road conditions. What does that mean? First, it means many of the roads, such as Tioga Pass and Glacier Point Road, will be permanently closed over winter. Second, it means depending on the weather, you could potentially encounter other closed roads, even the roads from San Francisco if it snows. Do you know the alternate routes if roads are closed? Are you prepared with snow chains and the right emergency equipment just in case? If not, consider a private Yosemite tour with someone to help you acclimate, with the correct safety equipment, especially if you are not from America.
Don't Depend on GPS
We also suggest you do not depend on your GPS before going to Yosemite. Yes, the systems work wonderfully when signal is around; then everything is easy. However, many times in Yosemite there is no signal (which is a good thing—think "back to nature"!) and your GPS is a major fail. Instead, print a map or go with someone with great experience in Yosemite winters and your New Year's Eve will be a lot more fun.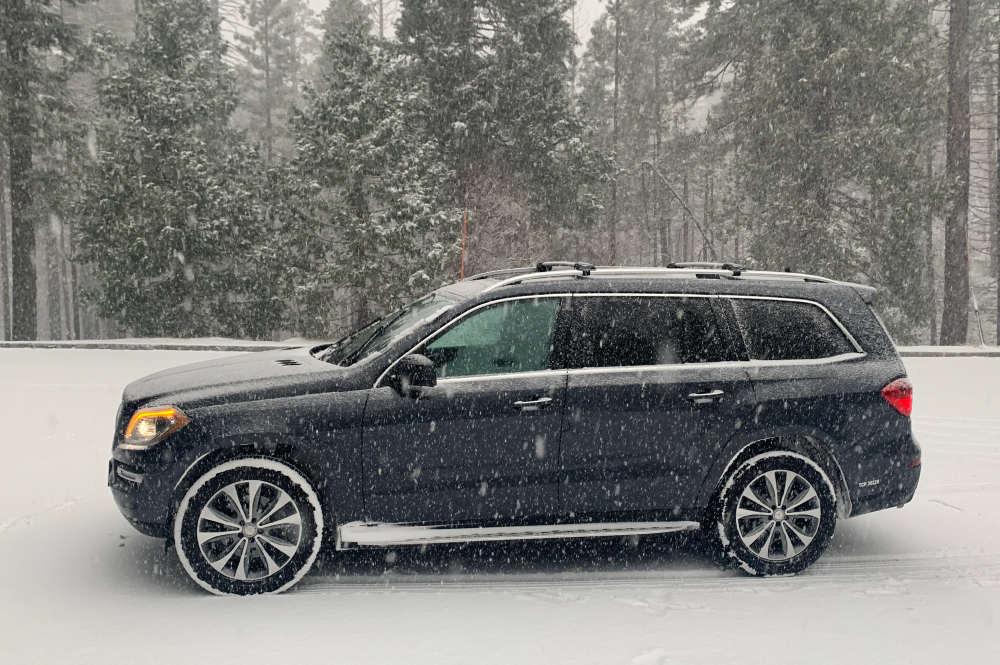 How Much Time Will You Spend in the Park?
The longer you spend in Yosemite the better. Is this your first time? Then consider coming up, seeing everything you can, then heading back in 2-3 nights, especially if you plan to party on New Year's Eve. You will not feel rushed the next morning to see everything. Instead, you can wake up at a civilized time to brunch, lounge around the fireplace and see Yosemite at your leisure. The less time you spend rushing around, the more you'll enjoy the experience. And with more time, you can consider winter activities including snowshoeing, skiing, or ice skating.
Winter Activities in Yosemite over New Year's
Most travelers don't realize that Yosemite is a great spot if you want to get away from the crowds for winter activities. Most of the athletic crowds, in fact, head to the ski resorts at Tahoe or Mammoth for the winter holidays. And yes, those places are awesome, but Yosemite has some of the best cross country skiing on the planet (when there is snow) and even activities such as snowshoeing are available, with or without guides. What you do here, really, will be based on your interests:
Ice Skating
The easiest winter activity within a close distance to The Ahwahnee, ice skating is fun to do if an afternoon of hiking is not up your alley. The rink is located in Curry Village and is under $20 with rental skates included. The rink is open mostly in the afternoon, with hours changing during the weekend and special hours over Christmas and New Year's. It's been a tradition since 1928, and the venue includes a cozy fire pit nearby for the non-skaters.
Snow Tubing
Located at Badger Pass, the hub for most of the winter activities, snow tubing is usually done when you spend the day at Badger Pass, California's first ski resort. The snow tubing is part of a larger list of activities and is subject to certain hours of operation based on snowfall and winter conditions. Sleds are available for rent. The price is around $20 per person.
Skiing
This can be downhill skiing at the ski resort, Badger Pass, where the hills are mostly smaller and designed for learning or small kids, or it can involve cross country skiing into the wilderness. The two most popular destination points are Ostrander Ski Hut and Glacier Point. For Badger Pass downhill skiing you will need a lift ticket (look for specials from Yosemite here), and for cross country skiing you will need experience or a guide.
Snowshoeing
This is the best way to leave the crowds and see views in solitude. And in winter, the view and hike are totally different from summer. Snowshoeing is one of the best activities, something you can say you did that not many others have done. You will need to stay for the entire day, though; snowshoeing usually takes quite a while. Many times there is fresh snow at the top of the mountains, even when the Valley has no snow. The most popular hike is to Dewey Point. Snowshoes are under $30 for an all-day rental.
Winter activities in Yosemite can mean hiking around in the snow with your loved one or engaging in full-on ski activities. The best way to make sure you are enjoying Yosemite the "right" way is again to look at your time. The longer you stay, the better the experience. Equipment rentals and top-notch ski instructors are all available.
As we mentioned before, New Year's Eve in Yosemite is not your typical fireworks destination, but you can still ring in the New Year in joyous style, with several options of activities, including parties at a few of the hotels/ restaurants. And depending on which type of event you are looking for (and where you are staying), each one has its advantages or disadvantages. The Ahwahnee Hotel dinner-dance is the most popular with gourmet dinner, live music and dancing.
New Year's Eve Dinner
The Ahwahnee turns New Year's Eve into a huge celebration, beginning at 8:30 p.m. and usually lasting just past midnight. The dinner comes first. It involves a six-course meal with selections such as beef Wellington, poached main lobster tail and strawberry champagne cake for dessert, and you usually sit in groups with the opportunity to meet other people, so you can dance into the night and bring in the New Year together.
How Do Ahwahnee Guests Dress for New Year's?
Typically, Ahwahnee New Year's guests dress to the nines. It is not unusual for guests to be dressed in tuxedos or formal gowns, and encouraged to match the theme colors of the night (which are chosen by the Ahwahnee each year). Many times the groups visiting with the tuxedos are California locals (not many overseas travelers pack their tuxes). Do not panic, though. Not everyone will be wearing a tuxedo.
Drinks and Celebrations
After the dinner, many guests mingle in the grand ballroom or other areas of the hotel. Some step outside in the frigid air for a cigar. Others do not even drink, and that's fine. The point is to celebrate the night with live music, dancing and party favors provided, with a sparking wine toast at midnight, in a place not many people get to experience. The night doesn't last too much past midnight. But there are people around. If you want drinks after the main celebration is over, make sure to bring your own bottle.
Other Options Besides The Ahwahnee
If dressing up in a tuxedo is not your thing, then you still can stay at The Ahwahnee and not participate in the dinner. Instead, you can dine in the bar or order room service, or head to one of the other locations for New Year's with a more causal atmosphere, such as the Mountain Room and bar near Yosemite Lodge.
So I Can Stay at The Ahwahnee Without Doing The Dinner-Dance?
Of course you can! Not everyone wants to come to Yosemite to party over New Year's. Many, in fact, come to the Ahwahnee to stay comfortably and use the time early in the morning on New Year's to hike and appreciate the beauty around them.
The choice of what you do for New Year's Eve, whether in Yosemite or not, is all about what type of person you are and what you are into. Some folks want to dress up; others are in bed by 9 p.m. Whatever your lifestyle and dreams and capabilities, there is a place for you in Yosemite, a unique and exciting site to ring in the New Year.